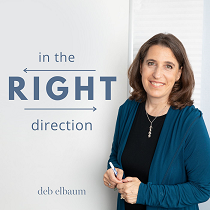 When people share their solicited or unsolicited opinions about your work, your style, or how you communicate, they are giving you feedback. While some of this feedback is hopefully positive, other times it might feel negative. It might really hurt. When we receive negative feedback, we're often quick to discount it because we don't trust the giver or it doesn't fit with our self-view. We might not see any value in what was said.
But what if you had a way to take in negative feedback more easily and calmly? What if you had strategies to make negative feedback work for you? Then you might see the kernels of helpfulness buried in it, and use this data to help yourself grow as a leader and as a human.
In this episode, Leadership Coach Deb Elbaum shares 2 steps for handling negative feedback more calmly and confidently. By changing your mindset and being more proactive, you can become more adept at handling negative feedback. If you're ready to change your relationship with negative feedback for the better, press the play button now.
Download the Full Transcript
To hear more about how to change your perspective, listen in to Episode 24.