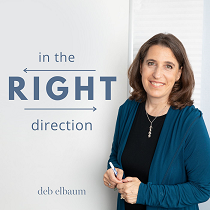 Most of us are goal-driven people. There are things we want to achieve at work, and there are things we want for our lives. Sometimes, we know what to do to achieve these, and sometimes we don't. We feel stuck and unsure about what next step to take.
The good news is that there's a strategy that can make it easier to feel excited and confident about what you can do next to create a path to achieving your goals. That strategy is called visioning. Visioning is a way for our brain to time travel to a future, and then tell us what we need to do to make that future happen.
In this episode, Leadership Coach Deb Elbaum describes the brain-friendly thinking-about-the-future tool called visioning and shares some examples of how to vision with a team and by yourself. If you're ready to give yourself permission to dream and imagine the future you truly want, press the play button now.
To learn more about action planning, listen in to this episode.