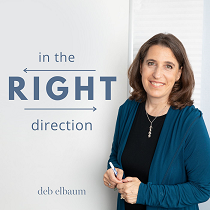 In our personal and professional relationships, we want connection, collaboration, and understanding. Yet, sometimes, we get the opposite: hurt feelings, frustration, and misunderstanding, especially when expectations are not met.
The key to creating more understanding is communicating – telling people what matters to us, how we see a situation, and what they can count on us for. In other words, we have an opportunity to tell people the conclusions we want them to draw about us.
In this episode, Leadership Coach Deb Elbaum explains how communicating more clearly and fully can help create trust and alignment. She shares examples of situations of when to use this leadership strategy, to help shape the narrative others might be creating about you. If you're ready to improve your relationships with those around you, press the play button now.
If you want to learn more about  why our brain jumps to conclusions listen to this episode.