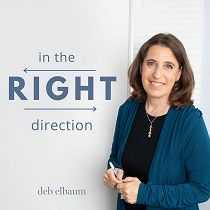 Metrics are how we measure success. At work, we use metrics to evaluate projects we're working on and to better understand how we're doing in our job. It's the same with coaching. When you work with an executive or leadership coach, how do you know that you're making progress and investing your valuable time and resources wisely?
There are different ways to measure personal and professional growth, and getting clear about what you are working toward in coaching is critical. Success can be measured through specific achievements, shifts in mindset, and feeling differently. The key is to be clear what you're working toward.
In this podcast, Leadership Coach Deb Elbaum shares the metrics she uses as a coach that help clients think more effectively, feel more in control, and write a self-narrative that is more purposeful, confident, and impactful. If you are curious about how you might measure your personal and professional development from a coaching perspective, press the play button now.
And if you want to build your coaching skills to coach others, listen in to this podcast.