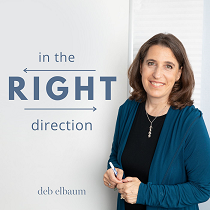 We all fall into habits of thinking, where we think about life, work, and our relationships in the same way. While this might be fine most of the time, there will be times when we are ready to think differently about our goals, our commitments, and our purpose – times when we're ready to clarify who we are and what we really want. How can we invite our brains to think more creatively in an easy way?
We can help our brains and the brains around us think more innovatively and see more possibility using a type of creative writing involving crafting a specific story. This tool lets our thoughts flow and coalesce in a low-pressure, fun way that everyone's brain can try.
In this podcast, Leadership Coach Deb Elbaum talks through a way to help your brain get focused on who you want to be, what's important to you, and what you're ready for next. She shares examples and guidelines to incorporate this strategy for you, as well as those you coach and lead. If you're ready for a positive and new way to think about your life, press the play button now
If you're curious to hear more about the brain making up stories, listen in to this podcast.