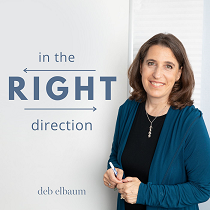 Most professionals agree that networking is important, and yet, it the thought of reaching out to someone you don't know well often fills people with anxiety or dread. Worrying about bothering someone, or not knowing your ask for a networking conversation often stops people's networking in its tracks.
What if you had strategies for feeling more confident and excited for networking? You would spend less time worrying about networking and more time building relationships, exchanging ideas, and making new friends.
In this episode, Leadership Coach Deb Elbaum shares the 3 most common derailers of networking. She then tackles each networking derailer with ideas and strategies about how to make networking work for you in your life.
If you're ready to be a better networker and have more productive and helpful conversations, press the play button now.