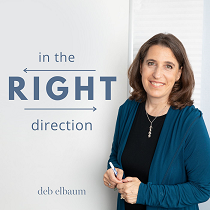 I'm sure you've heard people talk about leadership development, and maybe you've wondered, how does it actually happen? How do people develop personally and professionally? With so many resources at our fingertips, it can be hard to know where to start.
Knowing the steps to professional development is key, because once you understand the process of change, you can put your energy into growing as a leader and human being. You can learn how to delegate more, set better boundaries, or even become a better colleague or parent.
In this episode, Leadership Coach Deb Elbaum explains the 2 key steps to personal and professional growth simply and clearly. She explains how to approach your professional development more confidently and focused, so you can put attention to building new habits and thoughts that better serve you.
If you're ready for a clear roadmap to use to grow personally or professionally, press the play button now.